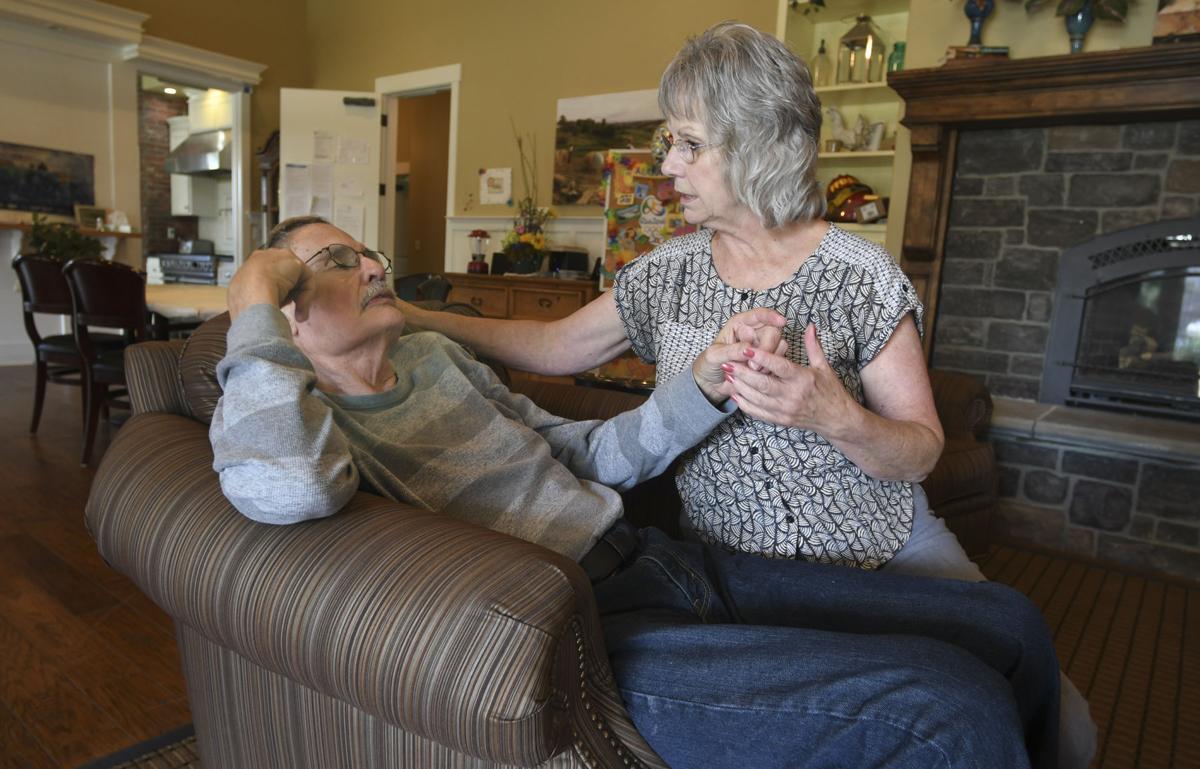 Len Wood, Staff
Connie Clancy talks to her husband, John, who has Alzheimer's disease, at the Orcutt-area care facility where he now lives. She is a Lompoc resident and business owner who helped take care of him for several years and feels like she would've been more prepared and better equipped if Caring Together Lompoc was around when her husband was initially diagnosed.
Connie Clancy talks to her husband, John, who has Alzheimer's disease, at the Orcutt-area care facility where he now lives. Clancy said she wishes she and her husband had a resource like Caring Together Lompoc available to them when their journey through caretaking began.
As Connie Clancy looks back on the time that her husband was first diagnosed with Alzheimer's disease about nine years ago, she acknowledges that she was unprepared for many of the challenges she would soon face as a full-time caregiver.
At that time, she said, there wasn't much information or support readily available for local caregivers and that she was forced to essentially learn things on the fly.
"Once my husband got really bad, people would say, 'Why didn't you call us? We could've helped,'" she said. "I'd just say, 'Well, I didn't know.'"
A group of local organizations has teamed up to try to make sure that anyone going through a similar situation in the future doesn't face the same set of obstacles.
The Caring Together Lompoc campaign, which officially launched June 30, is revving up as its partner, Lompoc Valley Medical Center, nears the opening of a new resource center.
The campaign, which aims to provide support to Lompoc-area residents who are receiving and/or offering caregiver services, has begun disseminating information through rack cards and its website — CaringTogetherLompoc.org — and will release a public service announcement in the coming weeks.
Ashley Costa, the executive director of the Lompoc Valley Community Healthcare Organization, which is the lead agency among many that have combined for the campaign, said she's thrilled to see everything taking shape.
"We're really excited because we started this project last year and it's really been amazing to watch how we've gone through the different stages," she said. "And now here we are ready to implement some solutions that can help the community."
As part of the campaign, Lompoc Valley Medical Center is slated to open its LVMC Family Caregiver Support Network in early 2017. Adrianna Rojas, who will be the caregiver support coordinator, has already been brought on board by the hospital to help run that center.
Clancy said she wishes that she and her husband, John, had such a resource available to them when their journey through caretaking began.
Clancy, a Lompoc business owner, said she first began to notice symptoms of Alzheimer's in her husband when they would go out to restaurants and he wouldn't read the menu. She said he began just telling her to order for him and/or to surprise him.
"I was thinking, 'Something's not right,'" she said. "So I'd even order him something that I knew he wouldn't like, and he'd eat it anyway. That's when I really knew something was wrong."
As John's condition worsened, Connie did a lot of the caretaking herself. About two and a half years ago, she brought in a pair of nurses, a move she said had varying degrees of success.
"His situation came to where it was too stressful for one person to be with him for eight hours a day," she said. "It was very difficult because he would lash out and you could lose your patience. In my situation it was better to have different people coming in to relieve the other person, otherwise someone was gonna get hurt, unfortunately."
The home care eventually became too difficult and Connie made the decision this summer to put John in a long-term care facility in Orcutt.
Given the number of locals who either have gone or are going through similar situations — an assessment study performed by Caring Together Lompoc found that about 16 percent of the total Lompoc population is comprised of caregivers — Connie said she thinks the campaign is a much-needed addition to the community.
"I think it's a great idea," she said. "Financially, emotionally — I think there is a need because I feel that if I had known of different resources available I may have been able to do things a little differently. But if you don't know, you don't know."
Costa said she's hopeful the early outreach efforts will help the campaign connect with local caregivers, including the many who don't necessarily view themselves as caregivers.
"A lot of people weren't self identifying," she said of the study, which found "extremely low" levels of self-identification. "They'd say, 'I'm not a caregiver, I'm a wife.' But, of course, you can be both."
As the campaign moves toward the opening of the new LVMC Family Caregiver Support Network, Costa said the stakeholders will continue to look at ways to improve the services and outreach.
"We'll be gauging the need based on demand once the support network is up and running, but it's our belief that once more folks hear about this resource and center for support, the demand is definitely gonna be there," she said. "We know the need is there, so we just have to make sure we drive the people who need it to the support network."
http://lompocrecord.com/news/local/caring-together-lompoc-campaign-revs-up-as-it-nears-opening/article_b8e52eb2-09c3-5fa7-991d-ac3a1fe0e32f.html
'Caring Together Lompoc' campaign revs up as it nears opening of center